With so much to offer, Nashville has rapidly become one of the hottest cities in the south. Here's an inside look at what to expect when relocating to Music City.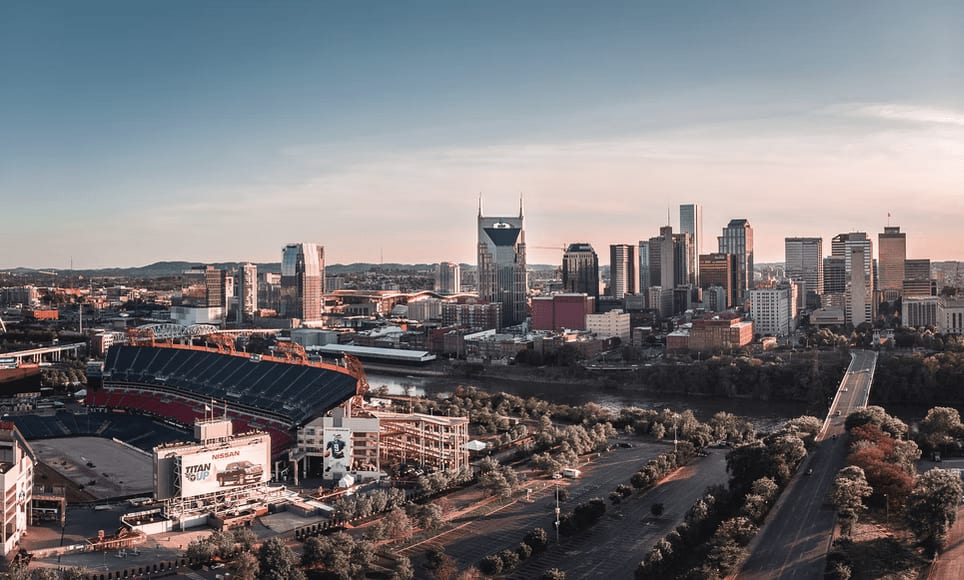 From coast to coast, more people are starting to pack up their bags and move to Nashville. In fact, Forbes ranked it as the 20th
fastest growing city in 2015
and that number has only continued in the ensuing years. Between the southern cooking to the vibrant music scene, it's not hard to understand why people are opting to live in Nashville.
Let's take a closer look at the migration to Nashville, what to expect when moving here, and how to prepare for your relocation journey.
Who Is Moving to Nashville — and Why?
Nashville, Tennessee might not have been on your radar fifteen years ago, but this thriving metropolis combines everything-you-need amenities with a down-to-earth spirit that has skyrocketed this city into popularity in recent years. With a thriving entertainment industry known for creating country music stars and television shows, creativity is lovingly fostered here — and it's not all cowboy boots and honkytonks. (Although, you'll find those too!) Fashion, art, and literature are also thriving in this magnetic community.
Forward-thinking professionals from both coasts have begun migrating to middle Tennessee, attracted to the high quality of life, comparatively low cost of living, and opportunity to own acreage properties like they might not otherwise experience in other entertainment hotspots like New York City or Los Angeles. If you're looking for a slower pace of living, the chance to dig in some entrepreneurial roots, or simply the opportunity to connect with others in an environment that emulates a small town while maintaining urban conveniences, Nashville is the place for you.
What you'll find in Nashville
It's no secret that people love living here. Here are a few reasons why the people who move here stay for the long run.
Entertainment at your fingertips
Regardless of your interest or hobbies, Nashville has something for everyone. Downtown is bustling every day of the week. The
Bridgestone Arena
is home to the NHL's Nashville Predators, as well as boasts a number of musical artists throughout the year. Grab seats for a Nashville SC or Tennessee Titans game at
Nissan Stadium
. The lights of Broadway belong to world-renowned bars like
Tootsie's Orchid Lounge
, the historic
Ryman Auditorium
, and one-of-a-kind local eateries.
Care for something more laid-back? Head over to the
12 South Farmers' Market
and explore the booths stocked with fresh produce, baked goods, artisanal cheese, homemade pasta, and plenty more, and then spend your afternoon sipping a
Frothy Monkey
latte and browsing vintage shops and boutiques.
For a breath of fresh air, be sure to check out
Cheekwood Estate & Garden
, a 55-acre botanical garden and art museum. Spring is an especially popular time to visit the garden, where you can soak up the sights of 250,000 blooming tulip bulbs. The nature area spreads over 1,367-acres and houses a unique range of biodiversity, making it a great spot for nature observation. Plus, there are over six miles of trails that offer plenty of exploring.
A Growing Job Market
Say you're not in the entertainment industry. Will Nashville still be a good fit for you? The answer is likely yes!
Nashville is arguably the healthcare capital of the country, with more than 328,000 jobs in the healthcare sector. Vanderbilt University's award-winning education program encourages the continued development of local medical professionals, and Vanderbilt University Medical Center, HCA Healthcare, Community Health Systems, and Saint Thomas Health extend thousands of job opportunities to the community.
Corporations like Nissan North America, Amazon, Bridgestone Americas, Oracle, and Mitsubishi have all pinpointed Nashville as an ideal headquarters for their enterprises.
Additionally, Nashville's entrepreneurial spirit encourages community members to follow their passions and do what they love, sharing it with the community through numerous small shops and locally-owned businesses.
How to Prepare to Relocate to Nashville
Are you ready to make the move? For a smooth transition, here are a few tips to make life easier as you relocate to Nashville.
Explore the neighborhoods
Like any big city, Nashville consists of smaller enclaves that each exude a unique and charismatic charm. Searching for sweeping properties with close proximity to country clubs? Try Brentwood or Belle Meade. Prefer a quaint Craftsman in a trendy neighborhood where you can walk to your favorite cafe? Peruse 12 South. Knowing your priorities will help you find the perfect fit.
Work With an Expert Nashville Real Estate Agent Like Me
If you're going to find your dream property in Music City, you're going to want to work with someone with unparalleled local knowledge who can help you identify the right place to settle down. When we work together, I'll be your eyes and ears in Nashville, keeping my finger on the pulse of new listings until we find the right fit for you, and I'm always happy to help out with a restaurant recommendation once you've got your boxes unpacked.